Ayurvedic/Herbal Products Third Party Manufacturing Company
SBM Vedic is known as a popular and trusted Ayurvedic pharmaceutical Company in the Pharma sector. We are best in providing high-quality Ayurvedic products to every customer. So now, we are on a mission to bring advancement in the manufacturing sector. Consequently, we are working hard as the best Ayurvedic Third Party Manufacturing Company for preparing ayurvedic products. We help Pharma companies who don't have assembling plants for production.
We believe to bring glory by providing our best and natural to everyone. So, we understand their needs and help them to fulfill their requirements Also, we ensure to serve finest ayurvedic products at a reasonable rate. So, if you are searching for the best and trusted herbal Manufacturing Company. Thus, you can get all the best variety of ayurvedic products only from our company.
We ensures the best technology, machinery and advanced methods for manufacturing of world-class pharmaceutical products. Our state-of-art manufacturing facilities make us the leading herbal manufacturer in India and enable us to provide the best in class as well as in standards medicines to patients all across the country. Our Company believes in making the best products for the better healthcare services in the market. All the manufacturing process is done under the strict supervision of our expert team always. Proper steps are taken under consideration while manufacturing.
---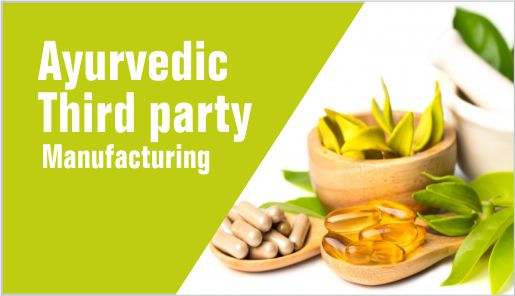 SBM Vedic - Best Third Party Manufacturing Company for Ayurveda Products
Over the years, the ayurvedic market has spread to foreign countries also after occupying maximum space in the Indian medical industry. Perhaps, that's the sole reason for which the number of ayurvedic product manufacturers in India is sky-rocketing. Till a few years ago, we knew only a handful of companies like SBM Vedic. But now, here so many other ayurvedic products manufacturing companies which producing huge range of products based on Ayurveda.
With so many options for ayurvedic medicine manufacturers, it can be a real challenge of choosing the best one.
Why there is a need of a Ayurvedic Medicine Manufacturers in India?
There are several small to medium sized pharmaceutical companies who want to include ayurvedic products in their list. But they can't because of the absence of raw materials, labor force, manufacturing units, production facilities, packaging units, and so on. All these companies have either pharma stores or distributors. This is where the ayurvedic manufacturing companies in India enter the scene. In this below section, we will present a few reasons for which a 3rd party ayurvedic manufacturing company is needed.
1. Lack of manufacturing units and spaces
2. Lack of access to raw materials, ingredients, cultured organic firms, and so on.
3. No access to technologies that are used for manufacturing
4. Not having any proper consultation about formulation, manufacturing, packaging, production, and more.
How to select best Ayurvedic Products Manufacturing Company in India?
If you want to work with the best ayurvedic medicine manufacturer like SBM Vedic, you need to be careful. After all, your product quality will depend on how the manufacturing company is handling all the works. Therefore, you can follow these below mentioned steps properly to have an idea about how to choose the best ayurvedic medicine manufacturing company in the country.
1. Always check the company bio to know more about how they take orders, manufacture the products, their material collection vendors, and so on.
2. Make sure all the manufactured items are sent for quality assurance testing because a small trace of impurity can destroy other ingredients present.
3. Check the technologies being used for manufacturing and packaging the products, be it capsules, face cream, or any eatable.
Best Ayurvedic Products Manufacturers In India - SBM Vedic
SBM Vedic is one of the best herbal products manufacturers in India. They have been working actively in the market since a few years now. And within these few years, it has gained a lot of popularity in the market, all thanks to their operations, high-quality manufacturing, thorough product development and QA testing, and so on.
The company is offering ayurveidc/herbal products third party manufacturing services as they have their own manufacturing plant. Since the officials understand the importance of Ayurveda and its power, all of their raw material vendors and suppliers are of the top notch quality.
Upon receiving the materials, the R&D department check and test them to ensure that they are nearly 100% pure with their physical and chemical properties resembling what is required. Once done, the products are sent to the manufacturing unit where modern technologies are used for producing the products.
All the processes are finished smoothly without any glitch which is why perhaps SBM Vedic has become number one in the list of herbal products manufacturers in India.
What advantages you can enjoy by choosing SBM Vedic as your Herbal Products Manufacturers?
SBM Vedic is now considered as the best ayurvedic products manufacturing company in India. But as there are other such firms also, it would be amazing if you had a little glimpse of the perks you will enjoy.
1. You won't have to invest in setting up a production unit, gather more vendors for quality raw materials, R&D, and so on.
2. There won't be anything to put into effort on extreme levels because we will support you with formula development, research works, testing, production and manufacturing, packaging and labelling, and distribution.
3. All the manufactured products are checked individually by our experts so that every customer can enjoy your brand.
4. We have become one of the best ayurvedic medicine manufacturers in India which is why we will make sure that nothing goes wrong from our end.
5. Being one of the modern-day ayurvedic medicine manufacturers, we will make sure that the technologies used and machine used are in proper condition, functional, and also of the top quality.
We can understand that choosing one of the best ayurvedic medicine manufacturers is not an easy task. But with collaborating with SBM Vedic, you won't have to deal with any problem all by yourself. Their experts will always accompany you in developing and improving the products for matching the market expectations.